Endo Mai (遠藤舞) is a Japanese pop singer. She is a former 1st generation member and leader of Idoling!!!. Her Idoling!!! number is #3 and her flower is the Japanese Camellia.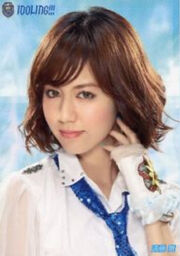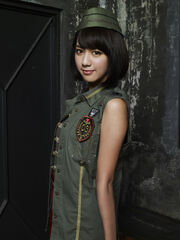 On May 20, 2012, Endo held her first solo live, Endo Mai Solo Live "Mai" at Billboard Live Tokyo.
Endo Mai released her debut single Today is the Day on July 31. The released coincided with her birthday. The single came in 3 editions; a regular edition, a limited edition, and a limited mu-mo edition.
On December 8, Endo Mai announced her graduation from Idoling!!!. Her graduation would take place on February 14, 2014.
She graduated on February 14 during a graduation live at Zepp DiverCity in Tokyo.
On August 30, 2017, Endo Mai, announced through the streaming service FRESH, that she would retire from the entertainment industry.
Message from Endo Mai
I'm about 30 years old now, and I've found something new that I want to do, so that's why I've come to this decision.
For the next 4 months before I retire, I hope to make memories with all my fans and giving back to everyone who has been with me.
She released her first and last album Saishuukai on December 13. On December 16, Endo Mai held her last live titled Endo Mai LAST LIVE -Saishuukai-. She officially retired from the entertainment industry on December 17.
Discography
Edit
See Also: List:Endo Mai Discography Featured In
Photobooks
Edit
Filmography
Edit
Idoling!!! (October 2006 – October 2015) (Fuji TV)
Tetsudo Musume (2008-2009)
Kuchisake Onna 0 Beginning (2008)
Abashiri Ikka The Movie (2009)
The Final Destination (October 17, 2009) (as Nadia Monroy)
Re:Play-Girls (2010)
Dollhouse (August 4, 2010) (as Ivy)
ShakenBabyY! Shakespeare Syndrome (2010) (Fuji TV)
Robot Taekwon V (December 2010)
Box TV (September 2010 - July 2011) (Enta!371, Pigoo HD)
Koneko no Kimochi (2011)
Kurohyou 2 Ryu ga Gotoku Asura-hen (2011) (MBS)
Aikatsu!! (December 2011 – present) (Music Japan TV)
Commercial
Edit
Ryu ga Gotoku of the End (2010) (Fuji TV CS)
Internet
Edit
[2012.04.12 ~ 2012.12.20] Nishikawa Takanori no Ienomi!! on Nico Nico Douga channel with T.M.Revolution